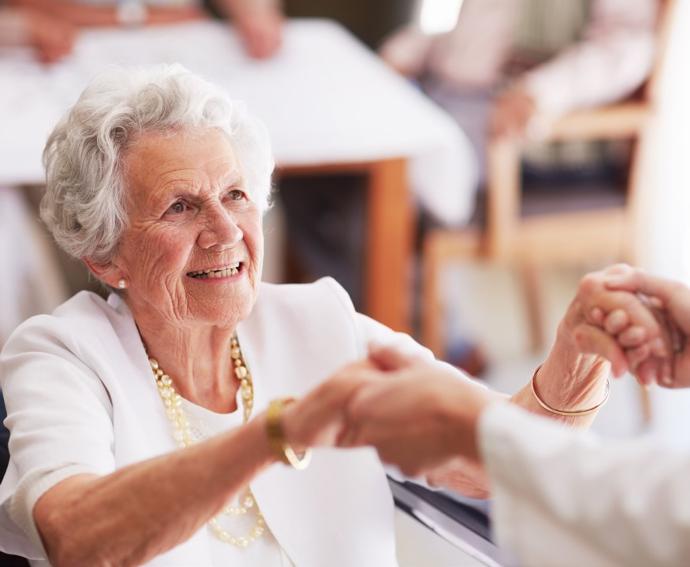 Elderly Care

We live longer thanks to advances in medicine and healthcare. But with ageing comes specific challenges. Dementia may cause further complications. Many aged care facilities today cater to both ageing residents and people living with dementia. Designing facilities for elderly care requires careful consideration of a variety of factors. Some of the key issues that need to be considered include the safety and security of the residents, their comfort and well-being, and accessibility and ease of navigation. Floorcovering plays an important role in the overall interior design. At Signal Plus, we have the knowledge and expertise to provide professional advice for the interiors of nursing homes and elderly care centres.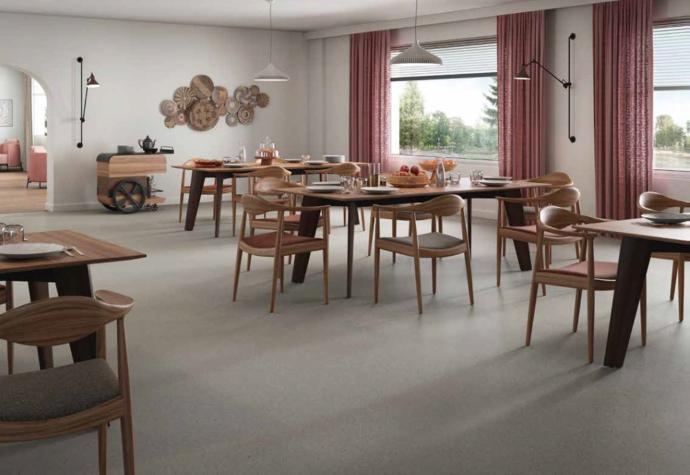 Ensuring a Comfortable Environment
The transition to a retirement home can be challenging, as it is often prompted by a decline in health that makes independent living difficult. It is crucial to provide new residents with reassurance regarding their new living environment. One way to achieve this is by stimulating their memory, which is integral to their self-awareness and sense of identity. By engaging their memory, new residents can feel more at ease and adjust more smoothly to their new surroundings.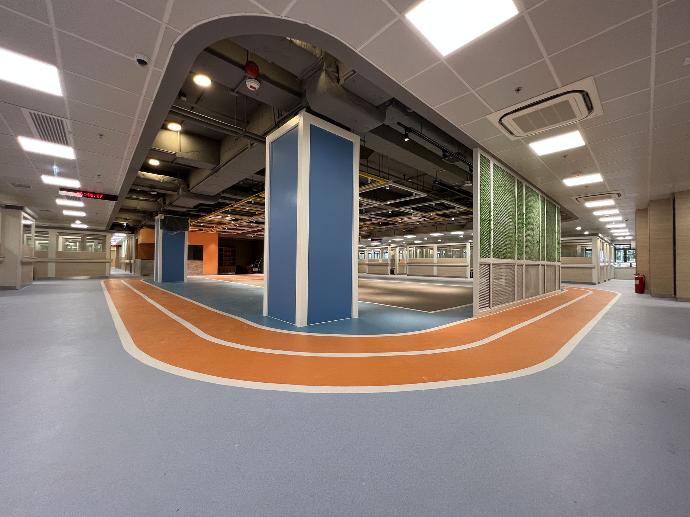 Stimulate Mobility
Continued mobility not only helps older people maintain their motor skills, but it also has a positive impact on their cognitive performance and promotes independence, which in turn, boosts their self-esteem. To support their mobility, it is important to ensure that interior spaces are designed to be safe and easy to navigate, whether using a wheelchair, cane or walker. Careful planning of distances between features, as well as the inclusion of pleasantly tactile handrails and resting points, can give elderly residents the confidence to explore and move around with ease.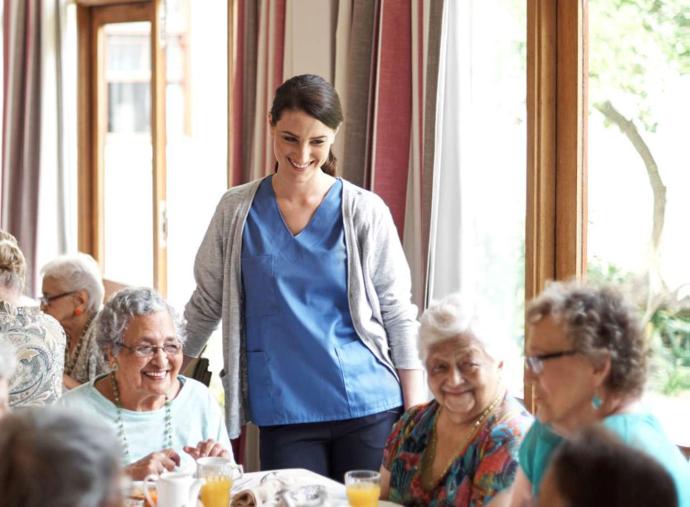 Infection Control Management
Tarkett floor covering is unique. It's highly resistant to chemicals and professional disinfectants. The high PVC content and seam strength of the joints ensures an impervious surface that will last for decades. The dense surface can be re-sealed over and over again throughout the lifetime of the floor without ever needing a chemical restoration of the protecting surface. Thanks to this patented technology, maximum cleanability and infection control management can be guaranteed.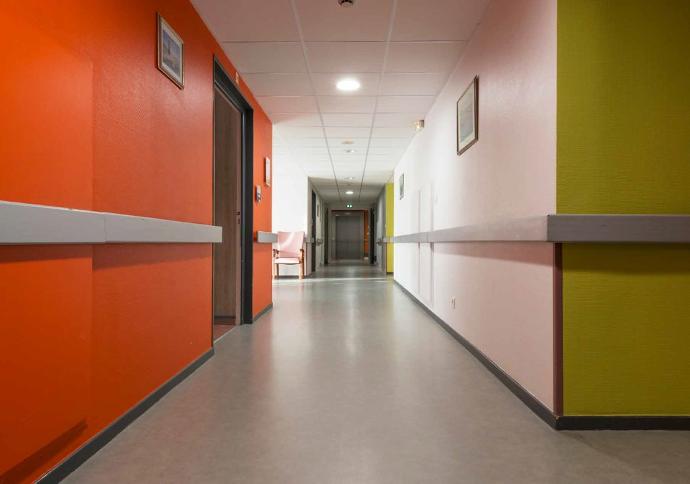 Provide Visual Contrast
The ageing process alters the perception of colour, with contrasts becoming harder to identify and shades appear less vivid. Reds can start to appear pink, while distinguishing between tones of blue and green gets more difficult.
We advocate using light and contrast carefully with the right colours to help older people identify important features like doors, handles and furniture. This makes their surroundings easier to interpret and safer to navigate.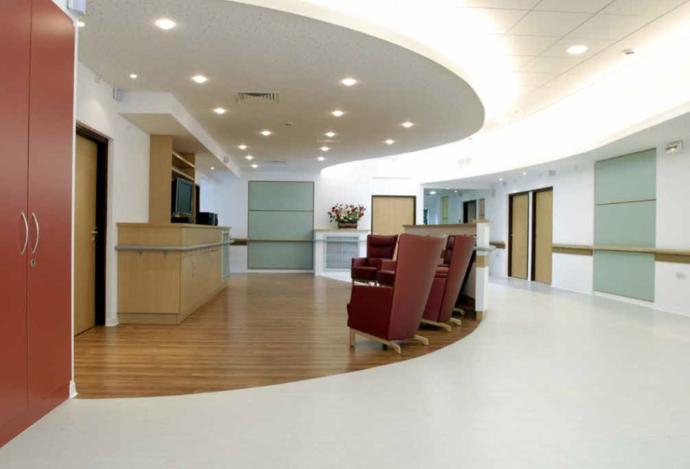 100% Biocide Free, 100% Phthalate Free
Bacteria and viruses can only be eliminated by a professional and effective sanitizing and disinfecting protocol. Adding biocides to floor covering is not eco-friendly, it is not reliable and it creates a false sense of security. That's why our Tarkett vinyl floor covering is 100% biocide free. Moreover, Tarkett vinyl floor covering is also 100% free of phthalate plasticizers, as these are banned from the healthcare environment since many years. This shows Tarkett innovation leadership and commitment to create safe and healthy healthcare environments.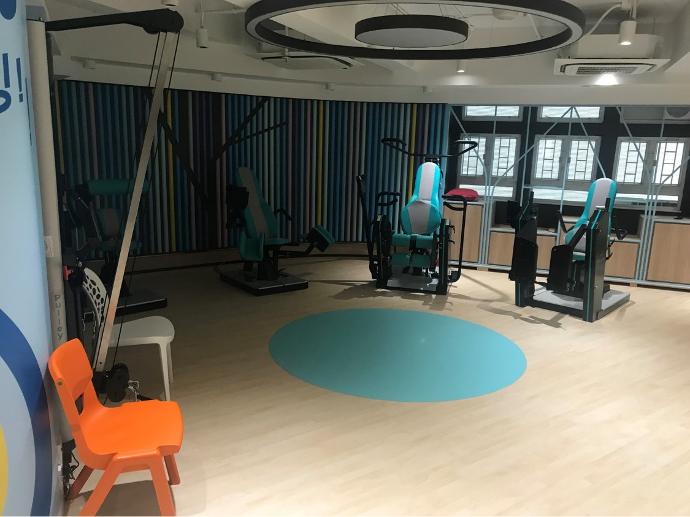 Physiotherapy and Rehabilitation areas
Physiotherapy can assist in keeping elderly mobile or help them to recover after injuries. Appropriate floorcovering ensures a safe environment. Tarkett Omnisports high impact foam-backed vinyl floor covering, provides optimal safely for residents while doing exercises.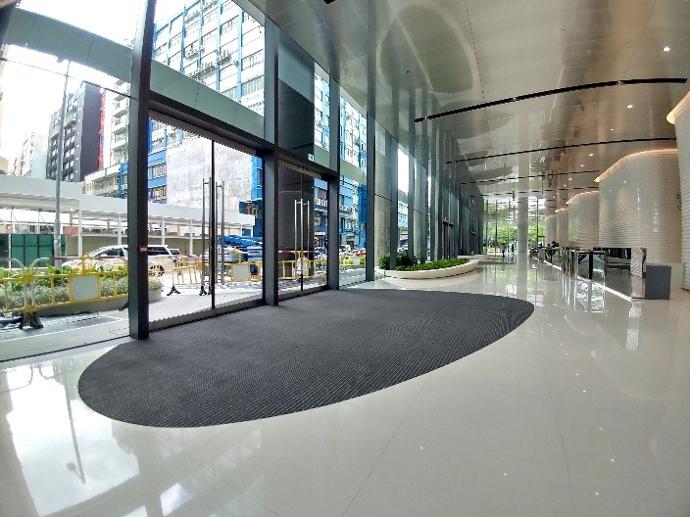 Entrance Mat Systems and Tactile Paving
An Access3 entrance mat system is a crucial part of a flooring installation in a nursing home. It contributes to a prolonged durability of the floor and reduces maintenance costs.
Access3 also offers a complete tactile paving system to provide a barrier free access for elderly with visual impairment.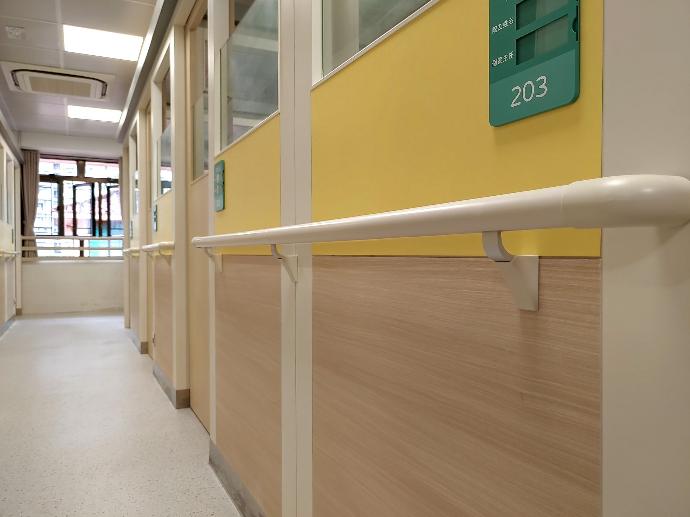 Handrail systems and Wall Protection
Japanese technology incorporated into a unique handrail system: the straight lengths and corner modules are seamlessly connected to create an attractive visual. The Naka handrail system has an embedded photocatalytic mechanism which inactivates bacteria and supports infection control.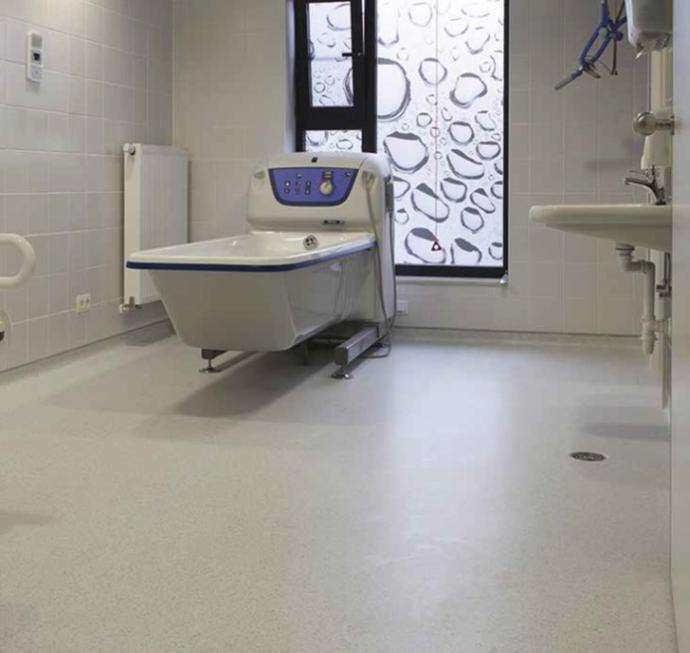 Slip Resistant Flooring
Slip-resistant flooring is an essential feature for bathrooms in elderly homes, as it helps to prevent slips and falls that can lead to serious injuries. Bathrooms are one of the most common areas for accidents to occur, especially for the elderly, who may have reduced balance and mobility. Slip-resistant flooring provides an extra layer of safety by reducing the risk of slipping on wet surfaces.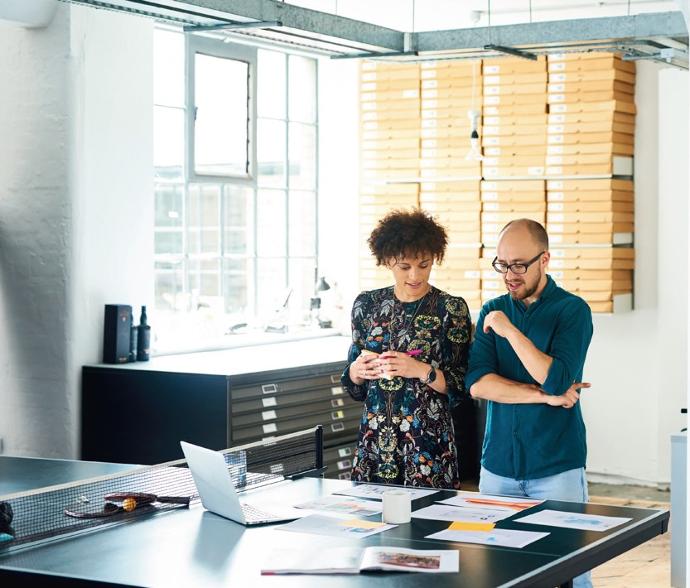 The widest range in patterns and colours
When designing an elderly care centre or nursing home, you can rely on our expertise. The Tarkett sheet vinyl range offers the ultimate in design to create an ideal ambiance for elderly residents. Colour experts and healthcare professionals have bundled their knowledge about the ideal interior design in several design guides which we can share with you along with sample folders, large samples and case studies of our completed projects.